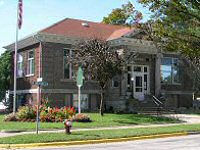 The Bronson library originated in the early 1880s as the Ladies Library Association. In 1888 the Bronson township assumed responsibility for operating the library in the Town House. The present building was built with funds donated by steel tycoon Andrew Carnegie, at a cost of $8,478. This new Bronson Public Library opened on May 23, 1912.
The Bronson Branch Library is now a central hub of community activity in Bronson. The library boasts a large children's area; books magazines, and videos; computers for public use; and a microfilm collection of the Bronson newspaper. During the summer, and throughout the year, the library is abuzz with a variety of programming for our patrons.
The Bronson Public Library is a registered Michigan Historic Site.