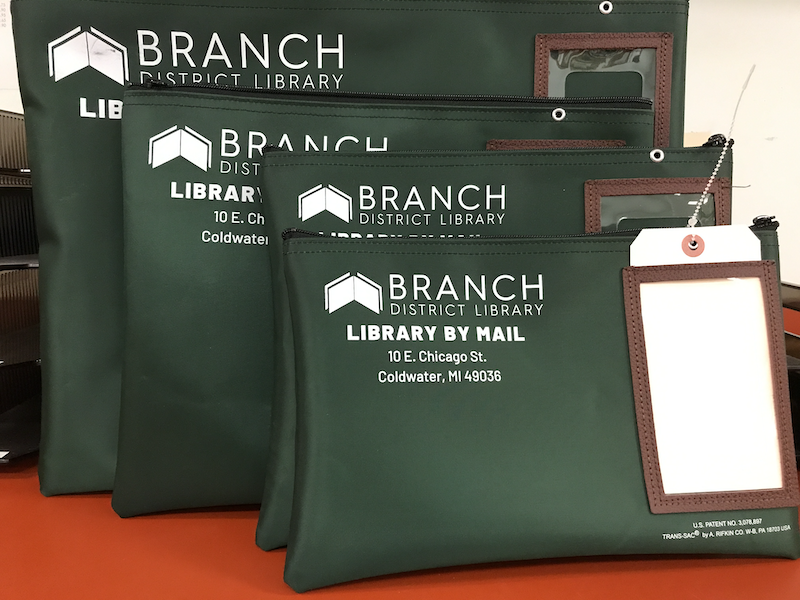 Branch County residents who find it difficult or impossible to visit the library in person and wish to check out library materials may now receive their library items through through the mail!  This new service is free of charge, and requires a valid library card and your status as a homebound patron.  For more information on eligibility and how this service works, please view our Outreach Policy. 
Start the online application now, or fill out our printable form.
How does Library by Mail work?
Once your application has been processed, a staff member will reach out to finalize the process. Library items may then be requested. Once all items on hold are ready, they will be checked out to your library account for 8 weeks and sent your way. Each bag will contain instructions on how to prepare your Library by Mail bag for return. After following the instructions, simply place the bag in or near your mailbox to be picked up by your mail carrier.
How much does Library by Mail cost?
All postage will be paid for by the Library, so this service is free! Any damaged or lost materials may still be applied as normal.
Are there any limits?
A minimum of 2 items must be requested before a bag can be mailed out, and a maximum of 10 pounds in materials may be sent per patron. You may only have one package at a time, and all items must be returned before another package may be sent out. Due to the nature of this service, we will not allow magazines, Wi-Fi Hotspots, or MelCat items to be sent through this service. Library materials sent through this service will not have the option to be renewed.
How do I know my package is on its way?
You can log into your library account to see your items on hold. Once these items are listed as being checked out and have a due date, they are on the way to your door through the USPS.
Can I add donations to my returns?
Thank you for thinking of us, but please do not put anything other than the items you received in your Library by Mail bag for return.
Michigan's Braille and Talking Book Library
If you qualify for our Library by Mail service, you might also qualify for Michigan's BTBL! This service lends audiobooks and braille books to Michigan residents who are unable to read standard print due to visual, physical, or reading disabilities.  Similar to our Library by Mail, this service is completely free of charge!  You can go to Michigan.gov/btbl or call 1-800-992-9012 for more information.