Main St. - Sherwood, Michigan
Subject
Main St. - Sherwood, Michigan
Description
Main St looking north.
Left side of picture - this is the northwest corner of Main and Division. The white building was a General Store with the first telephone and also served as the Post Office. Present day it is an old, "out of business" gas station.
Right side of picture - Small white building. After the General Store burned, it became the Post Office.
Files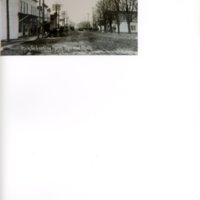 Collection
Citation
"Main St. - Sherwood, Michigan,"
Branch County History
, accessed April 22, 2021,
https://www.branchdistrictlibrary.org/branch/items/show/44
.